Canoeing down the River Ardèche
Canoeing in Ardèche is the "must-do" activity! Therefore, the best way to discover the Ardèche gorges – from the water, looking up at the huge cliff-faces on either side.
Several options are available:
a half-day trip (8 or 12km)
the full day (24km), or
a two-day trip camping out in the gorges overnight (32km)
Choose whichever option works best for you!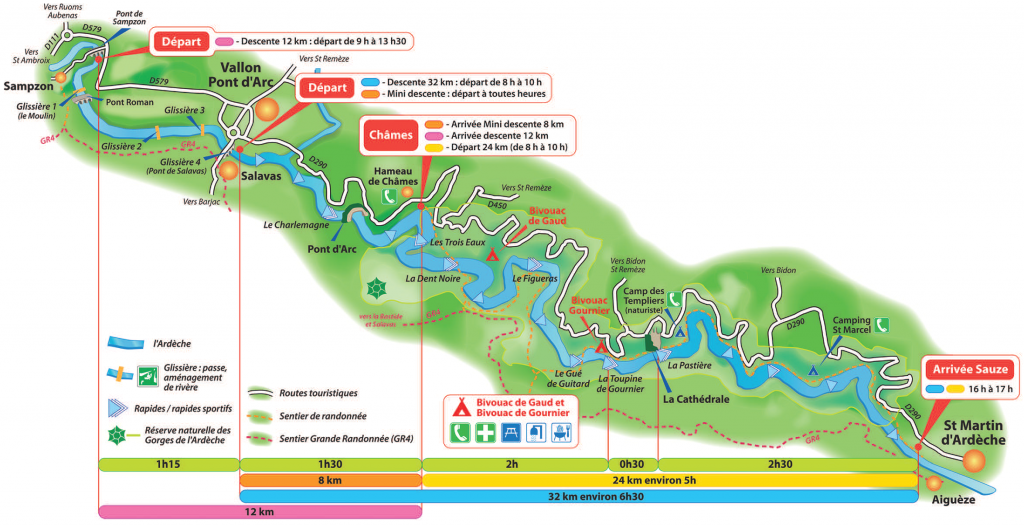 Let us arrange a canoe trip for you !

For several years now, we have worked with Action Midi Sport, a canoe rental company in Vallon Pont d'Arc. They come in the morning by coach to collect you and bring you back in the evening after a lovely day out. It couldn't be easier !
If possible, we recommend that you go in the early or late part of the season when the river is less busy.
If you are coming to Ardèche specifically for the canoeing, we offer canoe holiday breaks that can be tailored to your requirements.
Discover our Canoe breaks
Other ways to visit the Ardèche gorges
Discovering the gorges by canoe is fantastic! It is also nice to enjoy them from a different perspective, for example:
Walking in the Ardèche gorges
Take the tourist route which has great panoramic views down over the gorges