Holidays are the perfect time to take your time and enjoy the environment around you. Ardèche offers incredible landscapes such as the Ardèche canyon, beautiful villages such as Saint-Remèze or Saint Montan, as well as many sites such as the Chauvet Cave or the Lavender Museum, a few kilometers from home. So why not discover all these places in the silence of an electric car?
Discover Ardèche by soft modes of tranport
You have chosen cycling holidays but you want to rest for a few days? You came by camper but you do not want to use it for your small trips around the campsite? Or do you just want to enjoy our region in peace? We have solutions for you.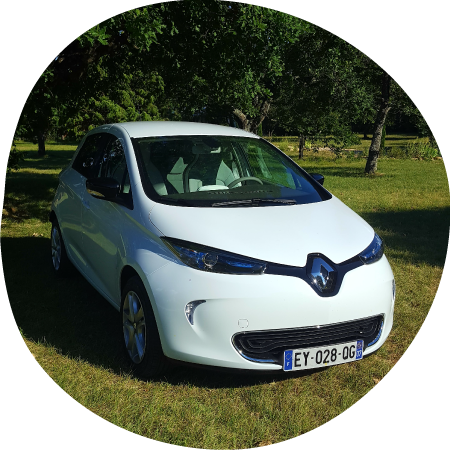 Your holiday in an electric car
Go on a tour around us. For more or less long tours, rent our electric car. Because you came on foot, by bike, camper, or just to try it you will see the road differently. If you have never driven, you will discover the pleasure of a smooth ride, in a relaxing atmosphere. You will even see a squirrel or a fox that will not have heard you arrive. Move noiselessly to enjoy both the trip and the destination.
Tip: adopt an eco-driving and you will even go further. Our current record: 340 km of autonomy
It also works by bike
Choose an electric bike for your short rides. 2 wheels to move through our area gently and without too much effort. An accessible way to all for taking a stroll around with us and discover our territory otherwise. The electric bike does not replace a bike ride. This is a separate means of transport which replaces rather to the car. More pleasant, less polluting. Moreover, you can stop whereever you want, you are less hot and can park easily. Go on a ride!
Electric bicycle rental. To be booked directly here : https://en.face-sud.com/location-velo-vtt-electrique-ardeche
100% green journeys
At the campsite, we self-produce some of our electricity through a wind turbine and solar panels.
What about the rest ? We also buy renewable electricity. It is therefore your guarantee to ride in peace and respect for the environment around you. They are great holidays, aren't they?
Rental of our electric car, Renault Zoé:
250/300 km of autonomy

49 € per day
What's more enjoyable than using soft modes of transportation for yourself and the planet?
To be booked directly at the campsite reception.
Book your stay