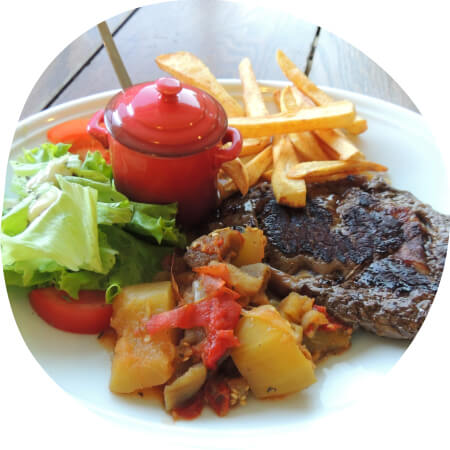 Our restaurant in Ardèche!
Local, seasonal produce
We cook with local products, mostly organic, grown by nearby farmers and producers. Cold meats, eggs, cheese, dairy products, chestnut spread, jam, ice cream, olive oil, snails are from the village or the area.
All our meals are freshly cooked by us every day, which can sometimes take a little time but always results in good, tasty food!
And if there's a product you particularly enjoy, you will very likely find it in the campsite shop.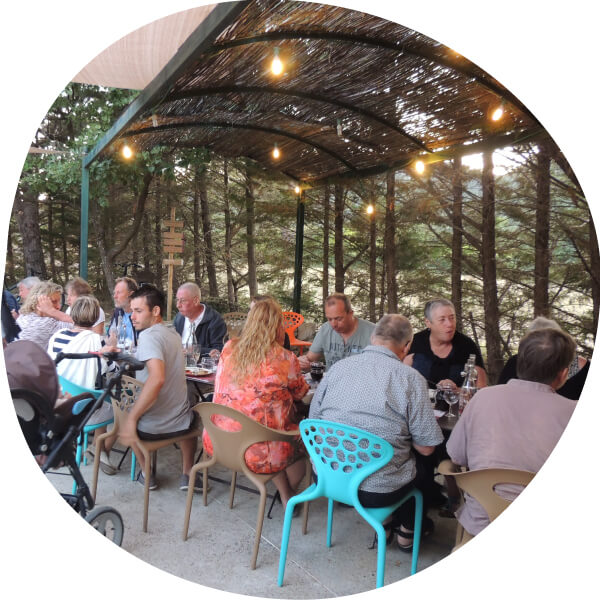 A little conviviality
In high season, Wednesdays and Thursdays are special!
Every Wednesday, Fred cooks us up one of his delicious meals "Menu de Briange" for you to enjoy in the company of other couples and families heralding from all across Europe. It's a little social event always enjoyed by both regular and new guests.
Every Thursday, we lay on a feast of Ardèche pancakes – savoury and sweet – washed down with a Saint Remèze sparkling wine.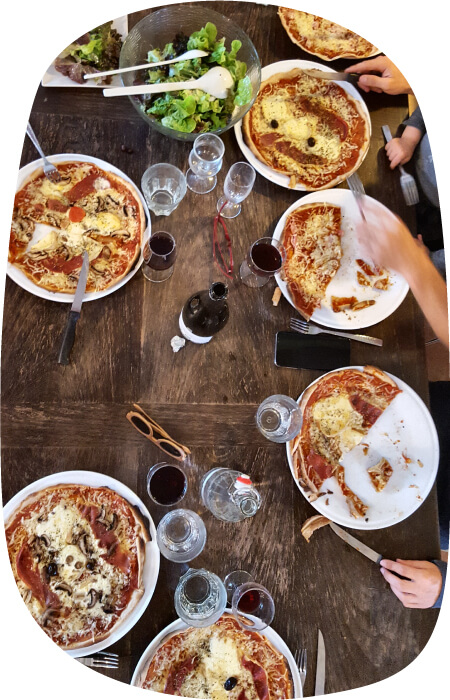 A few recipes to make you feel hungry!
We have a varied menu, with meals concocted using seasonal products inspired by local recipes. Soups and casseroles are the chef's speciality – pesto soup, beef stew, Ardèche risotto, bombine (potato and bacon stew), aniseed minced chicken, and many more. Taste one of the good restaurant in Ardèche.
We offer you Ardèche on a plate!
Other Made in Ardèche! specialities include pizza made with local Goudoulet cheese, Ardèche trout with almonds, and chestnut sponge cake.
By reservation only
If you wish to celebrate a birthday (or are simply feeling a little greedy), why not order in advance our home-made vacherin meringue pudding. You can choose whatever flavour you like.
Restaurant in Ardèche – opening hours
The restaurant is open from May to the end of August (and by advance booking for groups outside this period). In may and june, open friday evening and saturday evening. In July and August, orders are taken every evening from 7pm to 9pm (last sitting). The restaurant closes at 11pm. Reservations are strongly recommended during the high season as the restaurant can be fully booked several days in advance.
You can also get food from our shop for lunch, and ice cream every day in July and August.
Book your stay