We cook the dishes we serve ourselves every day, using fresh, local and seasonal produce. So you can sample the flavours of the Ardèche and, more broadly, the south of France. From pizzas to desserts, there's always a local touch in our Ardèche restaurant.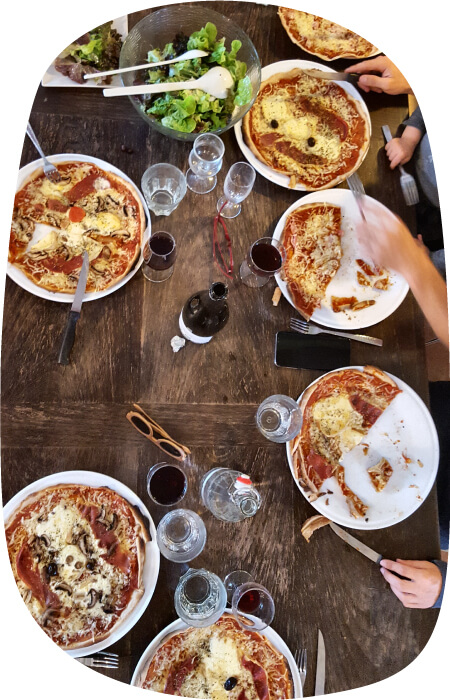 Our restaurant in Ardèche!
Local, seasonal produce
We offer a varied menu inspired by local recipes, using local produce grown by our neighbouring producers, usually organic. Cold meats, eggs, cheese, dairy products, chestnut spread, ice cream, lavender, olive oil…
From traditional dishes like bombine to international favourites like pizzas, there's always a local touch to our dishes. Everything here comes from the Ardèche (or neighbouring departments), and so does the chef's inspiration!
Find out more about our suppliers and our approach here.
And if there's a product you particularly enjoy, you will very likely find it in the campsite shop.
Here are a few recipes to whet your appetite!
bombine, a typically simmered dish from Ardèche
aubergine stew
goat's cheese salad and hot chestnuts,
pizza with 4 cheeses from Ardèche,
lavender crème brûlée,
sweet chestnut cake for dessert.
If you wish to celebrate a birthday (or are simply feeling a little greedy), why not order in advance our homemade vacherin meringue pudding. You can choose whatever flavour you like.
Whatever the dish, Ardèche is never far away!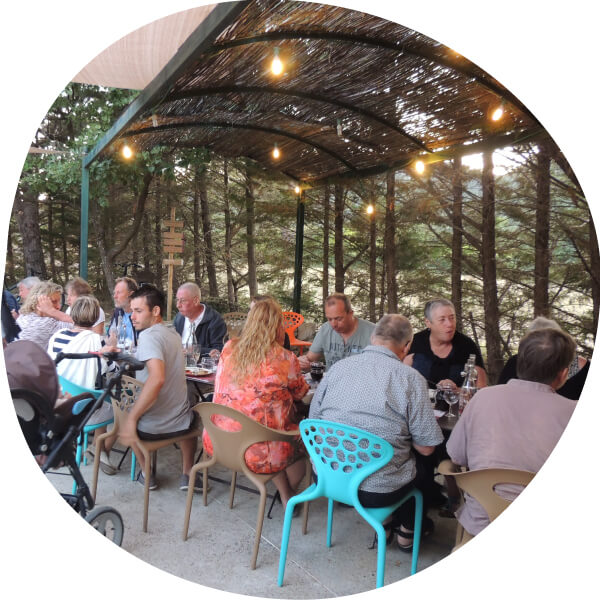 A little conviviality
In high season, Wednesdays and Thursdays are special!
Every Wednesday, Fred cooks us up one of his delicious meals "Menu de Briange" for you to enjoy in the company of other couples and families heralding from all across Europe. It's a little social event always enjoyed by both regular and new guests.
Every Thursday, we lay on a feast of Ardèche crepes – savoury and sweet – washed down with a Saint-Remèze sparkling wine.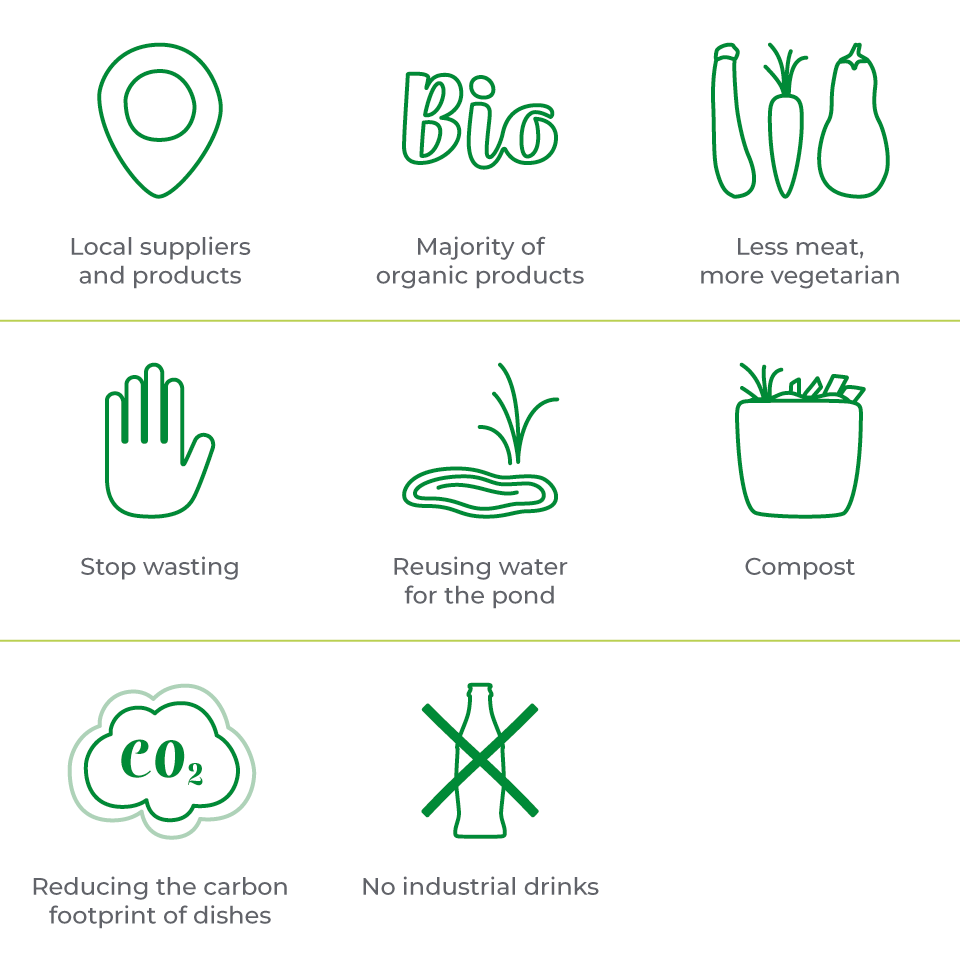 Sustainable food
In the restaurant too, we are careful about our impact, both in terms of the choice of dishes on our menu and our practices.
Responsible cooking
Let's start with the kitchen. Discover our commitments, beyond the local and seasonal products, the majority of which are organic, that we mentioned earlier.
Stop wasting food! We've opted for a limited menu (around twenty dishes and desserts) that uses the same ingredients in a varied way. This allows us to choose our ingredients carefully and limit waste in the kitchen. We also cook the right proportions for the 25 covers we serve every evening.
More vegetarian dishes. For a number of years now, we've been reducing the number of meat dishes in favour of a variety of vegetarian dishes: gourmet platters, burgers, pizzas, and so on. We also regularly offer a vegetarian dish of the day. This approach helps to reduce the carbon footprint of our catering. With this in mind, our meat dishes are also evolving. For example, the entrecôte has been replaced by a stew of the day. This is our approach.
Our kitchen practices
We've also put in place a number of complementary initiatives that enable our restaurant to feed more than just people.
Compost, of course. We put in all the kitchen peelings and leftovers. In this way, we feed other insects and animals, and then we can use it in our planting to create a virtuous loop. Find out more here.
The water used to wash the vegetables flows directly into the natural pond we've created behind the restaurant. This water irrigates a real ecosystem from which many small animals benefit, including birds that come to drink. Nothing is lost, nothing is created, everything is transformed!
Restaurant in Ardèche – opening hours
The restaurant is open from May to the end of August (and by advance booking for groups outside this period). In may and june, open friday evening and saturday evening. In July and August, orders are taken every evening from 7pm to 9pm (last sitting). The restaurant closes at 11pm. Reservations are strongly recommended during the high season as the restaurant can be fully booked several days in advance.
You can also get food from our shop for lunch, and ice cream every day in July and August.
Book your stay