The first rule of camping is having the option to do nothing at all without anyone bothering you ! That said, you are very welcome to join in the various nature-related activities we organise. But don't worry, the evenings are quiet – no Miss Campsite or noisy discos…
In July and August, the programme of our nature-related activities changes every week. All activities are free, but you may need to sign up for some of them. Consult the detailed program of the summer 2022.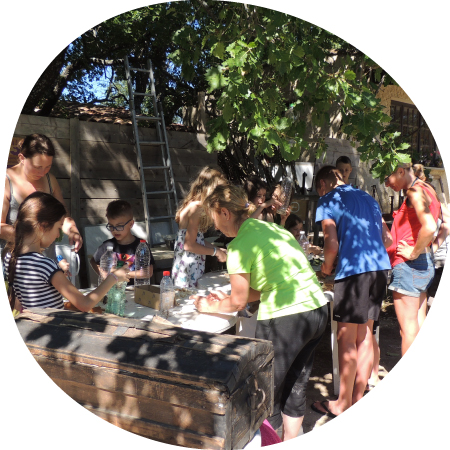 Creative workshops
The workshops are aimed at our younger guests but their parents often enjoy joining in too!
Working with objects found in the natural surroundings or with recycled materials, the children make a variety of creations such as lavender sachets, fans, wind-mills, models of wagons, mirrors, tealights and hanging mobiles.
Out and about in the area
Why not join us on a night-time walk up Dent de Rez, the highest point in south Ardèche, or for a walk to the Montagne de Sable on the edge of the Ardèche river? The landscape is beautiful and you can learn all about the local flora and fauna courtesy of Mathieu Robert, a registered guide of the local countryside.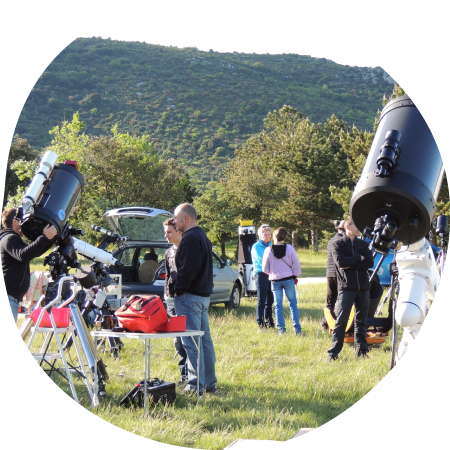 Unusual nature-related activities
Astronomy with the Ophicius club – make a compressed air rocket and observe the afternoon sun before a spot of star-gazing as night falls
Moonlight swim – once a week, the pool stays open late so you can enjoy a little night-time swimming
Horse and cart ride – our associate Randonn'et caleche offers family fun with a ride around the campsite
Wooded marbles – a novel way to improve your marble skills
Book your stay