New for 2022! For this summer, we offer you a stay in one of our canvas lodges, fully equipped tents integrated into the nature. Two models are available, for 2 or 4 people. At the moment, the 2-person tents are not yet available, we will update this page as soon as they are installed. Contact us to find out more.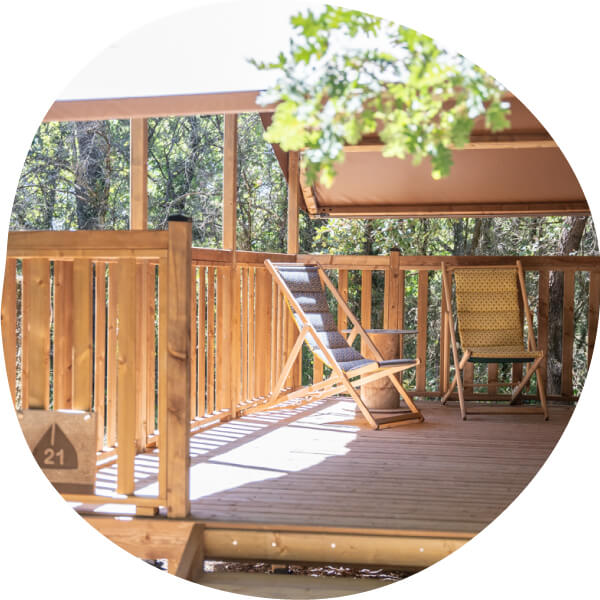 Welcome to our ecolodges! These are large tents equipped for camping enthusiasts, but without the constraints.
Nothing to transport or put up, everything is here ready when you arrive, including all the home comforts necessary to sleep, cook and relax… in a tranquil environment. In short, you combine the comfort of renting with the connection to nature of camping.
All our canvas lodges are situated in the shade of oak trees, within a large pitch, identical to our campsite pitches. You sleep in a tent, but in a real bed. All you miss is a bathroom, which is not far away.
With their wooden frame and sober colours, they blend in with the nature of the campsite. And the wood and canvas interior makes it a warm place to be.
These tents allow you to live inside-out thanks to their large opening to the outside. The covered terrace, in the extension of the living room, offers a nice space of intimacy and sharing. Finally, the whole structure is elevated, which gives it a certain lightness and a smaller footprint.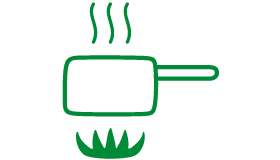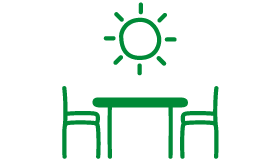 General equipement
Everything for the kitchen with a fridge, storage, crockery and a 2-burner gas
Duvets and pillows
Cupboards, cleaning equipment
A raised terrace with garden furniture
And finally a dry toilet outside.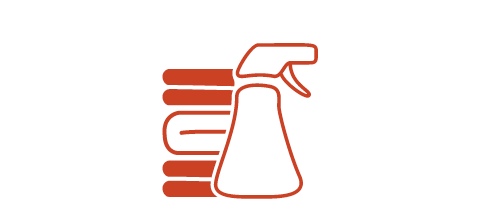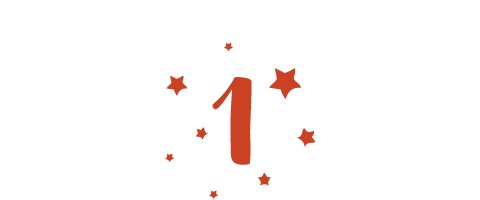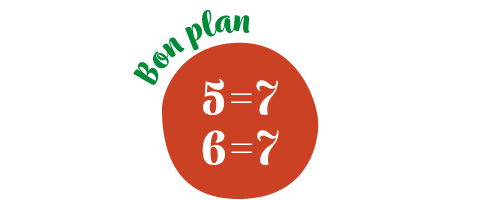 See our prices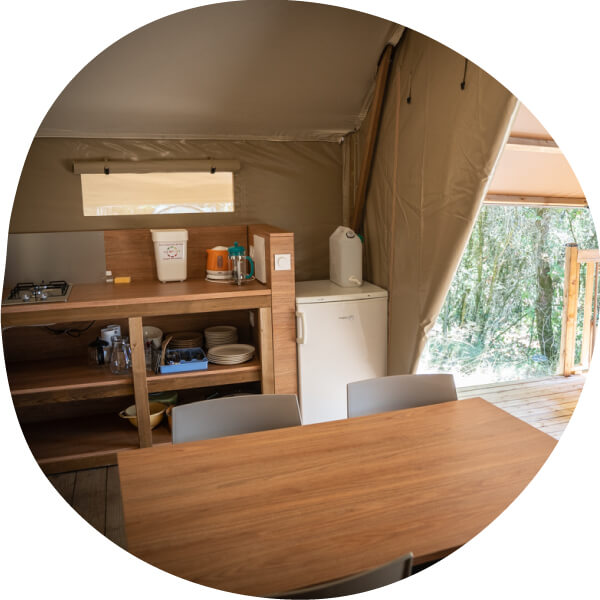 4-person canvas lodges
20 m² equipped tent with 2 bedrooms
You enter through a kitchen-living area, facing the outside. Then, you access the 2 bedrooms located at the back.
A kitchen-living area
1 bed: 140 x 190
2 single beds: 80 x 190
4 chairs and a table
« Chosen by chance, because accepting short stays, I can only congratulate myself on having discovered the Domaine de Briange. An attentive and caring welcome, a feeling of freedom and space, intelligent and varied entertainment, a friendly atmosphere. Everything is there for a great stay!
I will come back with pleasure and I highly recommend it to those who want to recharge their batteries and spend a holiday outside the rowdy entertainment… »

–

Isa. 2017
2-person lodges
8 m² equipped tent – a cosy little space for lovers.
1 bed: 140 x 190
a table et 2 chairs
In these ones, the kitchen area is outside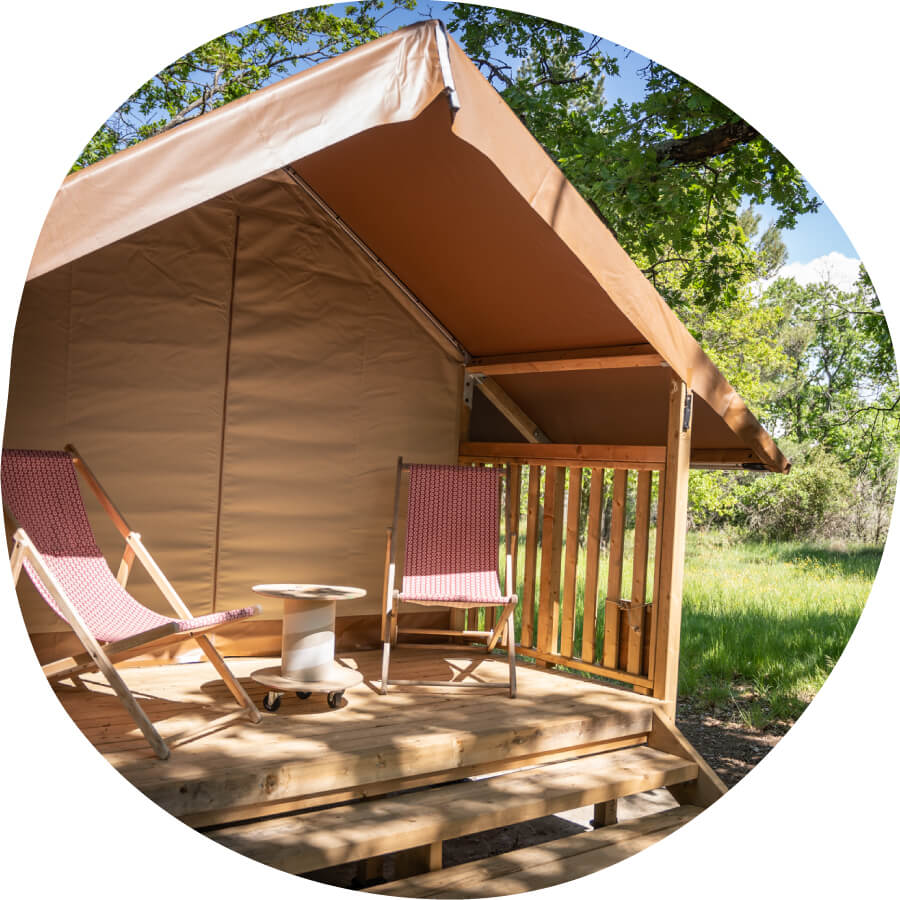 Book your stay
« Green stay, with a real homecoming! Size of the pitches, and of the campsite to walk there, invitation to read and rest, simplicity of the places. Numerous play areas, numerous nature activities offered for children, loan of books, bicycles, games… Kindness of the managers. »

–

Laetitia. 2020