A natural philosophy !
We want you to have an unforgettable experience in our campsite in Ardèche. It is a place that's a little bit different, and so we've developed our very own camping philosophy through the years – a philosophy best described as 'come and live in the wild' !
We know that, like us, you enjoy nature when you go camping, which is why we protect and showcase this unique corner of Ardèche. For us, camping is also about sharing, so we have organised our campsite in a way that enables campers to spend time together if they wish. For example we created shared living space and shared gardens. Plus we offer various communal activities such as group walks, workshops, campsite barbecues and evening meals.
All our guests have something in common – you all like a calm environment, nature, open space and our warm welcome !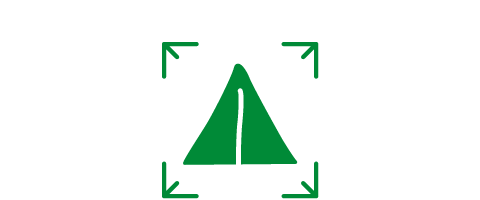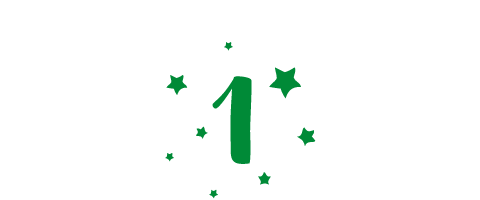 See our prices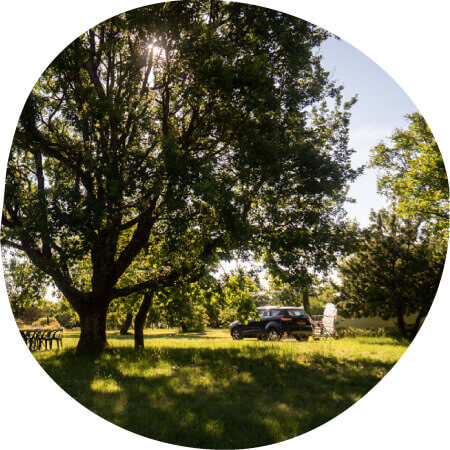 An ecological campsite in Ardèche
We take great care to preserve our unique setting and minimise our impact on the environment. We are careful about the products we use (cleaning products for example) and about our energy consumption – we use solar lamps and wind energy. You can also play a part in our ecological endeavour by using the compost and recycling bins provided, and walking or cycling within the campsite grounds.
We have also purposely limited electrical power on the campsite to 6 amps, or 1.2 kW. Check which electrical equipment is suitable before you pack. As a guide, fridges, lighting and coffee machines are OK, but kettles and electric stoves are not.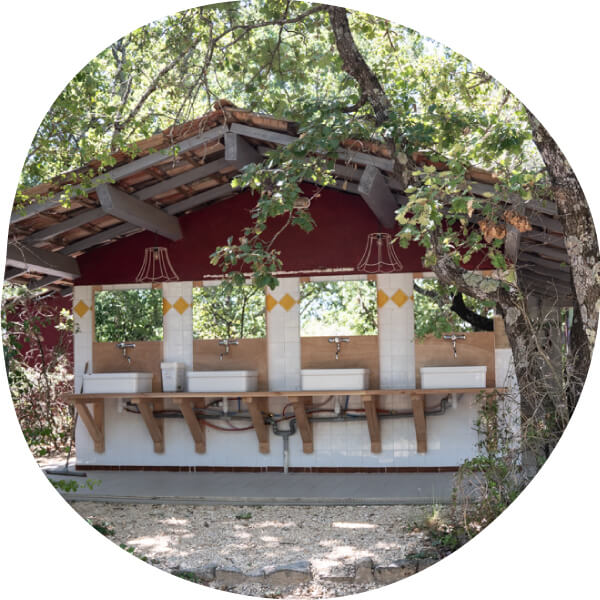 Practical advice
Water supply taps and electricity hook-ups can be found at various points throughout the campsite. However we advise you to bring an extension lead (at least 25m long) as our pitches are big and the nearest hook-up may not be immediately close by.
Discover the campsite map here.
Our toilets have a baby area, including a baby bath and changing table. It is also has disabled access. Hot water is provided free of charge and we have installed a coin-operated washing machine.
Open fires are not allowed in the region. Therefore charcoal barbecues are not permissible (other than the supervised campsite communal barbecue). Regrettably, it is not possible to use an electric barbecue or stove either.
Book your stay