A friendly, family campsite …
One of our greatest pleasures is working together as a family!
Armel works all year round on the campsites in various roles – renovation and repair work in winter with his father, grounds and building maintenance, masonry, installation of new chalets and cabins. In summer, he also cooks pizzas. No time to twiddle his fingers!
Romain is a designer by trade and has helped with improvements to the campsite including designing a pathway, accommodation clusters ot the boutique shop. He handles all our communications: logotype, website, menu of the restaurant, and so on. During summer time, he cooks 4 days a week.
From a very young age Jasmine also worked on the campsite. In the restaurant, doing the accounts or entertaining everyone with her mini farm. Now she lives in nearby Drôme with her husband, their children and animals!
Every summer, some people of our area join the Briange family. They help us get the campsite ready for the season and worked in the bar and reception during the busy months.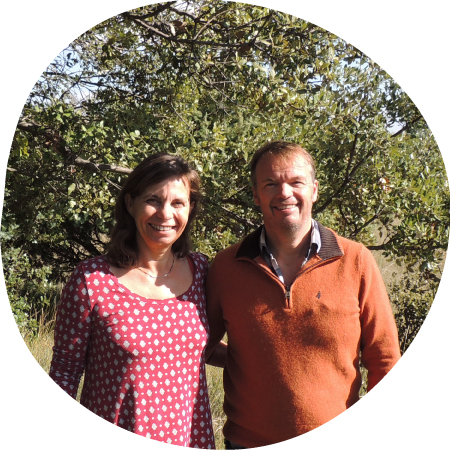 … since 1997 !
The campsite was established in 1980 by the Dumas family from Saint Remèze and we bought it from them in 1997.
We are both originally from Ardèche but left the region to complete our studies in Lyon and stayed on in the city to pursue our careers. Fifteen years – and 3 children – later, we realised that we no longer wanted the city life. We felt a need to live and work closer to nature, developing a shared project for the future.
After a couple of years, our search brought us to Saint Remèze and the Domaine de Briange. It was love at first sight! A beautiful site with so much potential, we knew instantly this was the place that would be our family campsite, change our lives, where we could enjoy quality time with our children in winter, live in the open air, welcome people to a little paradise and introduce them to Ardèche, the land of our forefathers…
But of course, it didn't turn out like that!!
The nights are too short in the high season but we expected that. What we hadn't anticipated was that the winters would also prove too short to get everything ready for the next season. And we always have lots of modernisation and improvement projects on the go! We often find ourselves overwhelmed by the demands of management, marketing, regulations, training and building works… in short, we have full-time jobs!
And yet so much more than just a job – for us it is an exciting vocation that we wouldn't change for anything in the world, not even after 20 years.
And we've got lots more ideas !
We like projects. We like thinking them up, letting them take shape, getting them off the ground and seeing them develop. If you are regular visitors to our campsite, you will have seen some of them for yourselves. But we're also involved in other projects besides developing our business.
We are both active in the local community – participating in a local economic development association and the local council. Like the hummingbird, we want to play our part in making the world a better place. We're unapologetic idealists!
Encouraging local development, creating jobs, protecting the environment, and working as part of a network to promote local commerce…
Book your stay