We appreciate good local products and are lucky enough to be surrounded by good producers. It is therefore only natural that we share this "local heritage" with you. In the dishes served in our restaurant, as well as in our shop, you will find all the know-how of our neighbouring producers.
Local produce at the bar, restaurant and shop
Year after year, we enrich our offer. Recently, we have added chips, mustard and gherkins – all from the Ardèche – to the shelves of our shop. We also replace classics with local alternatives whenever possible. This is especially true for drinks: beer, cola or lemonade. Everything is local!
We have mapped all our suppliers and producers below. The vast majority of them come from within a 50 km radius.
Keep it local!
Les Jardins d'Armel
The most local of all. Since 2019, our son Armel, grows his own fruit and vegetables on the campsite. But we all put our hands in the ground a little. You can find his produce in the grocery shop, as well as in the restaurant's dishes, well cooked. Tomatoes, courgettes, cucumbers, aubergines, salads… Freshness and taste guaranteed!
The rest of our fruit and vegetables are delivered to us by D'Ardèche & de Saison. This wonderful initiative puts Ardèche producers in touch with establishments, like us, wishing to buy local produce. They take orders, collect them from the producers, prepare the orders and deliver them.
Goûtez l'Ardèche, the label of local Ardèche products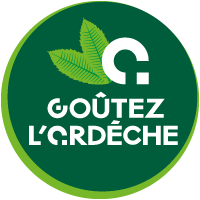 Moreover, for several years we have been awarded the "Goûtez l'Ardèche" label, which guarantees the quality and origin of our products. Eating locally is an essential part of our ecological commitment and our desire to help you discover our region.
In a word, the dishes contain a minimum of 80% local products in the restaurant. And in the shop, there are at least 20 Goûtez l'Ardèche products, from at least 3 different producers. Of course, you will find many more in our shop.
25 years of local cuisine