In high season, the shop is open from 8.30am to 8pm.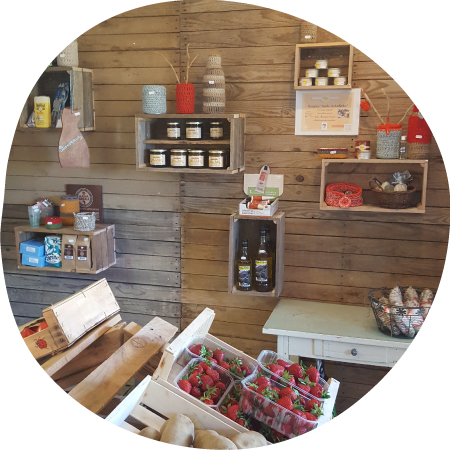 Our shop is "100% very local" !
Buy local
Our shop stocks a range of local products that we source from neighbouring farmers and producers
local or organic fruit and vegetables
cold meats,
dairy products,
honey, jams,
olive oil, vinegar,
wine, beers, cordials
coffee, tea,
and even tooth brush or soaps,
etc.
We are also labeled "Goûtez l'Ardèche" for our wide choice of Ardèche products, including the famous chestnut cream.
All the local food produce is also served in the campsite restaurant.
We support local artisans
Our shop also sells various items made by talented local artisans and artists. As examples, homemade marketbags made of wool or graphic posters of famous recipes of Ardèche.
Convenience
We also stock a range of standard products that you may need during your holiday. Such as the eco-friendly Bulle Verte household product range that is produced not far from the campsite.
Book your stay