Our spacious swimming-pool is designed in the form of a kidney bean and measures 29m long by 14m wide. Its gentle slope means you can ease yourself into the water, while its deepest point  plunges to 1.8m. Smaller children, meanwhile, can splash around in the paddling pool!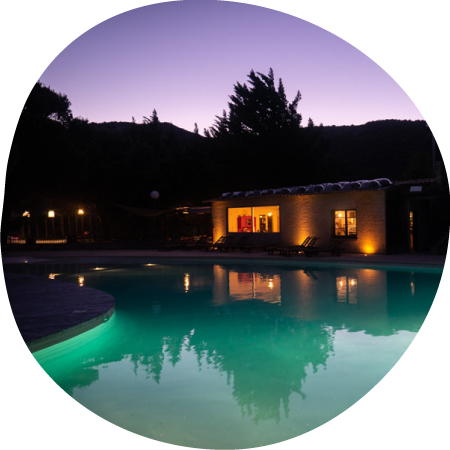 Campsite in Ardèche with swimming pool
A large and beautiful swimming pool, transparent water and a gentle slope for a quiet dip. What a program!
A large wooden beach borders the basin, overlooking the first pitches. Plantations all around complete this marvelous setting. Do you prefer swimming or sunbathing?
The little extra? A triangular wooden pontoon extends the beach. Hair in the wind, arms open Titanic style, you are the kings of the world!
The pool is ecologically heated using solar domes. This choice of energy-saving system works well when it's sunny – and thankfully there's rarely a shortage of sunshine in this beautiful region !
Finally, if you drink the cup, you will notice a slight taste of salt. It's normal, we chose to upgrade to a salt water pool. It's nicer for swimmers, and much better for the environment.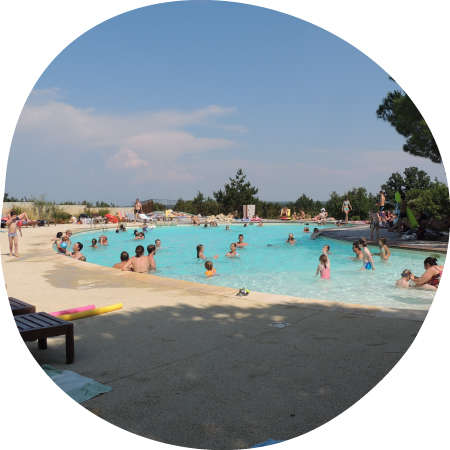 Practical information
Our spacious swimming-pool is open from Ascension weekend in May through to mid-September.
Opening hours are 10am to 9pm every day and until 11pm for night-time swimming on Thursdays.
The pool does not have a lifeguard and is strictly for the use of campsite guests only.
A few rules which helps us to maintain the water quality:
Shorts are not permitted – swimming trunks and boxers only please.
Food and drink are not permitted in the pool area.
No smoking and no shoes inside the pool area.
If we can keep the water clean, we can reduce the use of chemicals which is both good for the environment and kinder to your eyes.
Book your stay